Solutionz appoints John Richards, Founder/CEO of Startup Ignition, to its Sounding Board for TripProximity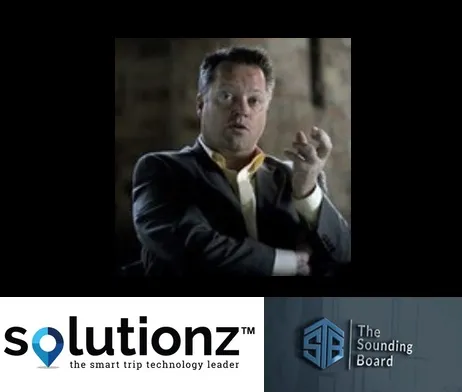 TAMPA, FL, July 26, 2019 – Solutionz Innovations, an industry-leading travel tech firm, today announced successful entrepreneur and angel investor John Richards as the 10th member of its Sounding Board for TripProximity™. The Sounding Board is a unique, virtual extension of its Board of Directors, designed to accelerate the success of funders and founders by helping them reduce risk and make more informed decisions.
Richards brings more than 35 years of entrepreneurial and venture investing experience to the Solutionz Sounding Board, having started, operated, and exited multiple ventures and invested, directly and through venture funds, in 100+ more. Over 225 highly qualified candidates applied for this innovative board role..
"John was my first advisor, appointed in the summer of 2015. There was no question as to whether he would move from that individual advisory role into the Sounding Board as we scale the Company. He has mentored thousands of entrepreneurs, helping some go on to build billion-dollar companies and his own venture achieved a multi-billion market capitalization on the NASDAQ stock market." said Chicke Fitzgerald, CEO and Founder of Solutionz.
Solutionz' patent pending flagship product, TripProximity™ integrates trip planning into the systems and sites that people use every day. This reduces the cost of acquiring high intent travelers and gives organizations new ways to monetize existing account bases and enrich the value of their tools and content to their customers, the end travelers.
Perry Yeatman, Executive Director of the Sounding Board added, "The Sounding Board pulls together a world-class team, comprising expertise in all of the key areas where start-ups need advice—from finance to HR, marketing to M&A. By design, when curating the membership of this team, we looked for a range of skills, experiences and perspectives. John has an impressive track record of identifying billion dollar ideas, before they have even earned their first million. Adding his experience in working with and scaling start-ups and his 4 years of advisory work with Chicke was the perfect way to round out our team for TripProximity."
ABOUT SOLUTIONZ. https://www.solutionz.com. Since 1996, Solutionz has brought innovative thinking to the challenges facing the travel and technology industries. Its clients are enterprise software companies, publishers, venues, events and non-profits. The company helps them solve problems while improving their bottom lines and contributing to the charities they support. The core business is our TripProximity™ smart trip technology, which we integrate into the digital tools and sites people already use every day. And, we leave a legacy by giving back with each trip taken.
ABOUT THE SOUNDING BOARD. https://thegamechanger.network/the-sounding-board/. Bringing together a well-vetted, well-rounded, ready-to-go team of experts from a variety of industries, functions and geographies, The Sounding Board provides "as needed" counsel and support to early stage companies to help out with whatever opportunity or issue they are facing. Whether a founder needs marketing help to hone their concept; an acting CxO to be their growth partner; or a corporate governance expert as funding comes through, The Sounding Board lets a start-up access new skills and knowledge as they evolve and grow, thereby saving funders and founders valuable time and money, without compromising quality.
---